Men, learn more about becoming an ally at home.
After extensive research conducted by MenCare and partners, from over 50 countries, we've uncovered the top recommendations on how to be an ally in your family.
Here are nine thoughtful tools to help become your family's rock.
Let's Talk About Home Life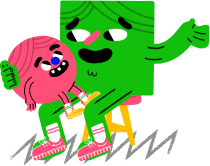 Play Game

Step Up To Care
You are more than capable of being a caregiver
 
Men are hardwired to take care of both children and elder relatives, and when done so, women are more likely to advance in their careers – everyone benefits.

Sharing Is Caring
Being a father is so much more than just play time
 
Sharing domestic chores with your partner contributes to boys' acceptance of gender equality and encourages daughters to aim for more aspirational careers.

Remain Present
Be an equal partner in all tasks – even the dirty work!
 
Men can own the space of being both a caregiver and a financial provider, but just helping out is not enough to truly advance equality. When you're truly present, kids and partners notice and remember.

Build With Love
Gain trust and respect, not power and dominance
 
When daughters and sons see their fathers in respectful, nonviolent, relationships, they can internalize the idea of equality and can pass it on.

Talk Freely
Open communication with your partner is paramount
 
Discussing all aspects of your relationship, both physical tasks and your mental load breeds a healthy household.

Empower Their Voices
Involving your children in decisions inspires confidence
 
By listening to your children and and engaging them in conversation you teach them to respect others and feel deserving of a positive future.

Nurture Ideas
Empower your daughters' dreams and raise your sons to be supportive of them
 
Be aware of rigid, limiting gender roles and help both sons and daughters resist stereotypes in their toys, TV programs and other spaces. Don't urge children to conform to them and instead embrace your children's' passions.

Stand Up For Your Family
Challenge structural and systemic power where you can
 
Advocate for positive child care policies and vote for politicians who support women the workplace.

Enjoy It All
Grow from the mistakes you make as you figure out how to be a ally at home
 
Be involved, try your best and meet each challenge one step at a time. Developing close connections with children will provide a huge sense of purpose, making it all worthwhile.